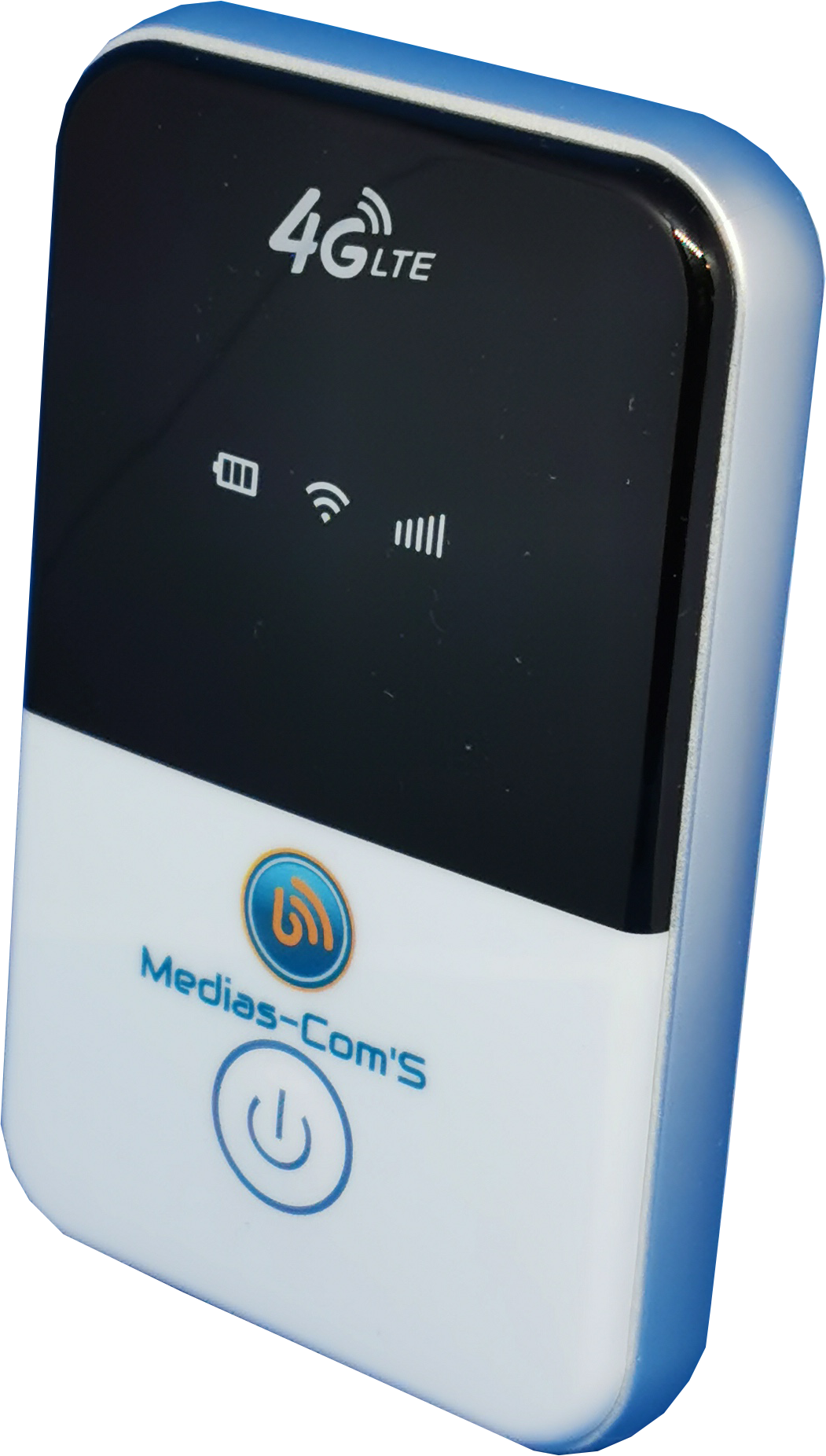 Medias-Com's 4G LTE modem
Discover the 4G modem developed by Médias-Com'S with its subscription plans for mobile data
Ideal 4G LTE wireless WIFI router
The best feature of the 4G LTE wireless WIFI router is that it has a really quick downloading speed, up to 100 Mbps (megabits per second), it allows to use to hotspot up to 10 different users, WIFI compatible devices, laptops, IPhones, smartphones, tablets, game console, …
It is an ideal companion if you go to work by train, allowing you to use up to 6 hours of WIFI! Wherever you are, enjoy an instant internet connection.
It also helps you to manage your mobile 4G/LTE more easily. You can turn your mobile WIFI on and off from a distance, read text messages, check your data consumption, check the battery autonomy, and modify the settings directly from your smartphone or tablet.
High speed
Download speed of 150 Mbps
Wifi
Take in charge up to 10 WIFI users
Autonomous battery
2100 MAH battery for a maximum of 6 working hours
Multi-frequency
Several frequencies are available
Take out a subscription and order your 4G modem right now or go to our shop
Our subscription price list
We offer diverse subscription prices from CHF 15.- for our 4G modems. Our subscriptions are billed according to the amount of data consumed
A CHF 50.- deposit is required when the material (modem and SIM card) is given. This deposit will be given back to you whenever you will give us back the rented material in good shape
MDCS4G S
This package includes 1GB of 4G data
MDCS4G M
This package includes 3GB of 4G data
MDCS4G L
This package includes 5GB of 4G data
Specific modems
Other specific modems are also available and can be ordered according to your needs. Contact us for further information.